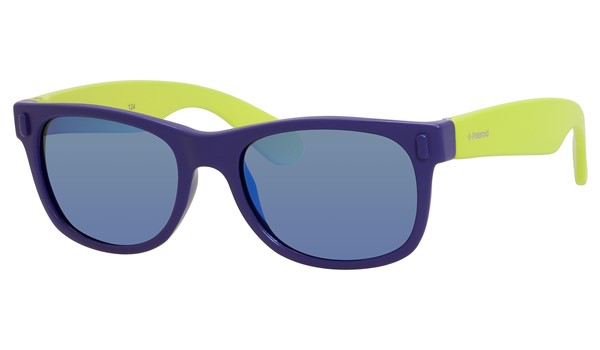 Specifications
| | |
| --- | --- |
| Manufacture | Polaroid |
| Style | P0115/S |
| Frame Shape | Wayfer |
| Frame Color Description | Blue/Lime |
| Frame Color Code | 0UDF-JY |
| Frame Material | Plastic |
What Makes Optiwow Lenses So Much Better?
Superior Optics
We use digital, or surfaced, lenses instead of standard stock lenses. Digital lenses are cut for each prescription. They cost more, but provide better clarity and minimal edge-to-edge distortion.

We use aspheric instead of spherical lenses. Aspheric lenses reduce magnification, so you don't get a fishbowl effect. They are thinner and lighter. And they provide better optical quality with less blur.
SKU P0115/S-0UDF-JY
Polaroid Kids P0115/S Sunglasses Polarized Blue/Lime-0UDF-JY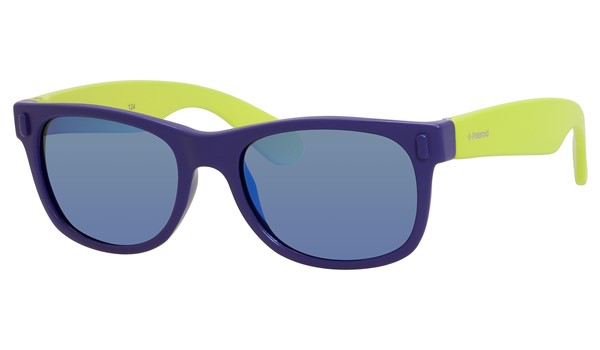 Product Description for
Polaroid the original inventor of the polarized lens. Polaroid Sunglasses are now available for kids. Protect the little ones you love by always providing maximum UV protection. Did you know the average kid takes about 3 times the annual UV exposure of the average adult? Don't wait; start protecting your child's eyes today! Polaroid Sunglasses available in stylish designs and fun colors that kids will love to wear. Polaroid P0115/S-0UDF-JY Blue/Lime will be a great selection for your child.
How to measure a kid's pupilary distance?
Description
Product Description Polaroid Sunglasses
Polaroid P0115/S-0UDF-JY Blue/Lime is a full rim wayfarer shape frame. Designed for kids to wear outdoors. With UVA and UVB protection this polarized lenses offer the best protection for kids. Very lightweight sunglasses making them very comfortable to wear.
Material
Polaroid frames are made of plastic material making them ultra-light and easy to wear. The lenses are polarized, this means that it reduces the glare caused by reflective surfaces helping kids see better and brighter. Great for kids with light sensitivity.
The Pros.
1. Best protection for outdoors
2. Protects from damaging UVA and UVB
3. More clarity
Frame's Anatomy
All Polaroid frames are designed with easy to wear shapes. The nose bridges are designed to contour well around the nose bridge for added comfort and support and minimizes extra pressure on nose. Easy to carry whenever
Polaroid P0115 is a full rim wayfarer style frame. This frame will hold mostly all type of lens prescription if required.
Because of its durable material you don't have to worry about constant breakages.
The Pros.
1. Frames stay in place
2. Very Comfortable
3. Anatomical nose bridge
Activities that can be performed with:
Great for everyday outdoor use

Great for the beach
Not recommended for any contact sport (please refer to sports goggles)https://www.optiwow.com/products/specialty-glasses/sports-goggles/111011=versport-vx985230-zeus-kids-sports-goggles-mt-blueblue-eye-size-5218-
If frames need prescription lenses we recommend these frames to be complemented with Polarized Prescription Lenses and Polycarbonate Lenses
Frame Sizes
Polaroid P0115 is available in eye size 45 we recommend them for young children ages 4 to 6 years old.
Color Options
Polaroid P0115 kid's polarized sunglasses are available in many colors to choose from.
What is included?
Polaroid kid's sunglasses include a Polaroid brand case or string bag.
Optiwow is an exclusive authorized dealer for Polaroid Brand Kids Sunglasses. We only carry the most current Polaroid sunglass frames; we do not sell any discontinued products.
If you want to learn more about Polaroid Sunglasses, you can visit
https://www.polaroideyewear.com/content/polarization
Parents should also consider:
Premium Quality Lenses to complete their frame selection for their child; here is what Optiwow recommends:
Polycarbonate Lenses for kids; they are impact resistant which means that lenses won't shatter upon impact. They are also 30% thinner and lighter than plastic. Also all polycarbonate lenses have UV Protection that blocks the sun's harmful UV rays just the same concept of putting sunscreen for protection when going to any outdoor activity.
If the power on your child's eyeglass prescription is higher than +/- 3 we recommend upgrading to an Aspheric Lens that will give them a better optics and a thinner appearance.
We highly recommend Anti-Reflective (AR) coating it eliminates the glare so making those pictures/selfies look great and enhances the facial expression. Also helps reduces eye straining and given the amount of time that kids spent looking at electronic devices this will help with the eye fatigue. Because of the super hydrophobic properties in the material it also makes it easier to clean, and with children this is a plus.
* Transition Lenses® are also an awesome feature to add because it's like having two pairs of glasses in one. They seamlessly change color when your children are outdoors helping them feel more comfortable in the bright sun and become crystal clear when back indoors and at night time.
Optiwow's Quick Guide to frequently asked questions
Easy Return, Exchange, Warranties and Cancellations here is a link to our store Policy
https://www.optiwow.com/store-policy
Here is a quick start guide to help you buy glasses
https://www.optiwow.com/quick-start-guide
How to measure your child's Pupillary Distance
https://www.optiwow.com/measure-pd
FAQ's