Head back to school with the best unbreakable glasses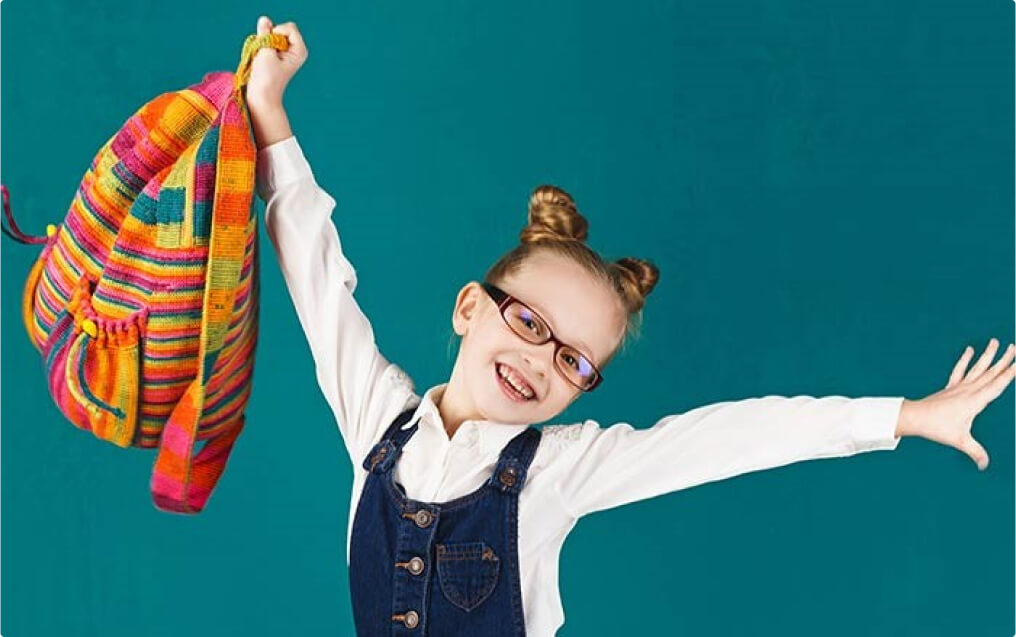 Children have distinctive face shapes. Some frames work better with specific face shapes. The five basic face shapes are round, square, heart, triangular, and oval. There are no hard and fast rules. If you find a frame you love, go for it. Almost no one has a perfectly round or square face, etcetera. These guidelines are meant to help bring balance to your child's face, not restrict your choices.
Finding out that your child needs glasses can be a little overwhelming. Of course, you want your son or daughter to see clearly, but if you find yourself asking questions like "how in the world am I going to keep those things on my 4-year-old?" Don't sweat it. You're not the first parent to ask that, nor will you be the last.
Children are versatile. From classroom, to front lawn, to playground, your child needs to be able to fully enjoy - without adults looming over in fear of them getting hurt and breaking their glasses.
We know that glasses, for very young children especially, can positively affect how a child's brain and eyes work together for the rest of their lives. That's why we encourage early testing and adoption of glasses in toddlers. But if you have a rough tumbling child, or a kiddo under the age of 4, getting the glasses to stay on can definitely be a challenge. That's why it's probably best to go with the most kid-friendly frames available.
You may ask yourself whether it's worth the bother at such a young age, and long story short: it really is. Wearing the right glasses can not only help correct your kid's vision, but also prevent more issues in the long run. That's why we carry the NANO Baby line, which ensures better centering of the pupils and extends the field of vision.
Also, children with uncorrected vision problems often struggle in school. Those with nearsightedness, a common refractive error called myopia, may not see what teachers write on the blackboard. Some children are unable to track words on a page, which makes reading a difficult task, to say the least. And too often these children struggle academically or are incorrectly deemed learning disabled. Behavior problems are also common among children with vision problems, who may be mislabeled as having attention deficit hyperactivity disorder and mistreated with stimulants.
Nano Vista glasses were especially designed to give your kids the superpower of unbreakable glasses and frames, to keep their eyes safe while they do cartwheels on grass or curiously bend over to see something, so they can learn, play, and develop freely. They consist of two ranges: NANO and Silicon Baby, catering to a wide age range and featuring virtually unbreakable frames with their patented "52" hinges. What this means is that they will bend, so they don't break. Every Nano frame also comes with two wearing options: a mini temple tip strap and a full headband strap, for moments you know the glasses should be tight around their heads. Both options provide variability, and are perfect for energetic kids who need their glasses to go along with them.
With all the colors and features, you can easily convince your kiddo that these glasses are a huge asset. Even a gadget, like the ones superheroes and detectives have, offering 3D super sharp vision for everything they may want to do. Remind them their new glasses will prevent headaches, guide them on adventures, and protect them as they move. For inspiration, you can also take a look at the latest fashion trends in kids glasses to make a choice together. This way, they can feel empowered, especially since these frames are so flexible and sturdy at the same time. Almost like a gizmo out of a Pixar movie, they can feel like the glasses are enabling them to be extra agile, safe, and focused.
---
Suggested Producs
Here are some suggested products for this topic
5 out of 5 results [Page 1/1]
---
Like and Share Article
Previous Post
Kids Glasses: Finding the best quality and style that fits right
Next Post
Back to School – 5 Tips for buying glasses for your children