Clarity About Lenses
Lens
Materials
Polycarbonate Standard Lenses are lightweight, impact-resistant, and have built-in UVA/UVB protection. Polycarbonate is required in most US states, but some online vendors use cheap plastic lenses instead.
Polycarbonate Aspheric Lenses are useful for strong prescriptions above +3/-3. They decrease visual distortion, improve vision quality, and have a slimmer, lighter profile. Plus, they make kids look better in photos.
Anti-Reflective Coating
Also known as AR coating or non-glare coating. This type of lens treatment reduces reflections of light from the front surface of the lens and eliminates reflections from the back surface of the lens, allowing more light to pass through the lenses.

This helps improve the vision and also makes them cosmetically more appealing by making them nearly invisible so people can see the eyes' appearance and facial expressions more clearly. They also provide better vision for night driving and more comfortable vision for computer use and reading.
UV Protection
Adding an ultra-violet protective coating to your lenses helps protect your child's eyes from the damaging exposure to ultraviolet sun rays thought to be the cause of certain eye diseases.
Scratch Coating
Also known as "hard coat." This treatment is applied to the front and back surfaces of lenses to protect against accidental scratching. Kids' lenses especially benefit from scratch resistant coating, but it is important to understand that no coating can make lenses completely scratch proof. Most eyeglasses lenses in today's market have a built-in scratch resistant coating.
Crizal Prevencia Blue Light
This anti-reflective coating includes a blue light block specifically for electronic devices that helps reduce eye strain and fatigue. It is also scratch- and smudge-resistant.
Common Questions

About Lenses
Reading An Eyeglass Prescription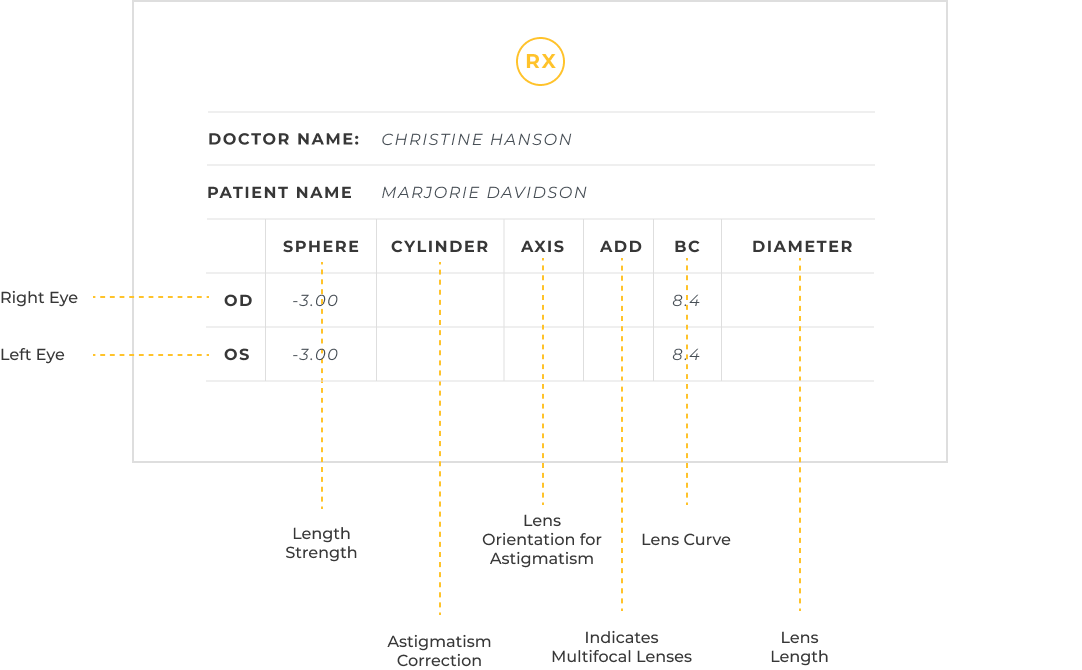 Understand the Lingo
OD

From the Latin, Oculus Dexter, meaning right eye (RE on some newer prescriptions).

OS

From the Latin, Oculus Sinister, meaning left eye (LE on some newer prescriptions).

SPHERE (SPH)

Indicates the amount of lens power, measured in diopters, to correct near- or farsightedness. A minus sign (-) indicates nearsightedness; a plus sign (+) indicates farsightedness.

CYLINDER (CYL)

Indicates the amount of lens power to correct astigmatism. A plus sign (+) means that the prescription was filled out by an ophthalmologist (MD). A minus sign (-) means the prescription was filled out by an optometrist (OD). The signs (+ and -) are not interchangeable because an ophthalmologist and optometrist have different training.

AXIS

A number ranging from 0 to 180 that indicates the direction of the cylinder power to correct astigmatism.

ADD

Refers to the added magnifying power applied to the bottom part of a multifocal or bifocal lens.

PRISM

Refers to the amount of prismatic power, measured in prism diopters, prescribed to compensate for eye alignment problems.

BASE

Used to describe prism direction: BU base up; BD base down; BI base in (toward the nose); BO base out (toward the ear).

PUPILLARY DISTANCE (PD)

The distance between the center points of both eyes (pupils) in millimeters. This measurement ensures the correct positioning of the lenses within the frame.