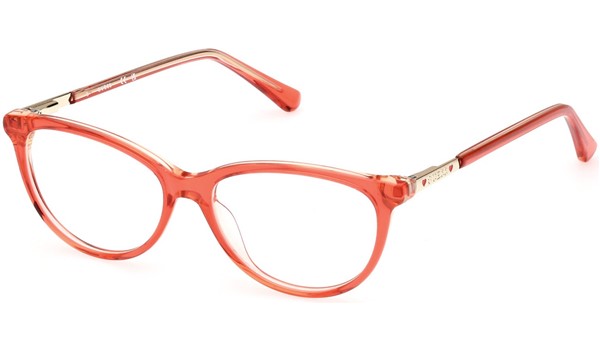 Specifications
| | |
| --- | --- |
| Manufacture | Guess |
| Style | GU9233 |
| Frame Color Description | Red |
| Frame Color Code | 068 |
| Frame Material | Plastic |
| Frame Shape | Cat Eye |
What Makes Optiwow Lenses So Much Better?
Superior Optics
We use digital, or surfaced, lenses instead of standard stock lenses. Digital lenses are cut for each prescription. They cost more, but provide better clarity and minimal edge-to-edge distortion.

We use aspheric instead of spherical lenses. Aspheric lenses reduce magnification, so you don't get a fishbowl effect. They are thinner and lighter. And they provide better optical quality with less blur.
SKU GU9233-068
Guess GU9233-068 Red Kids Prescription Glasses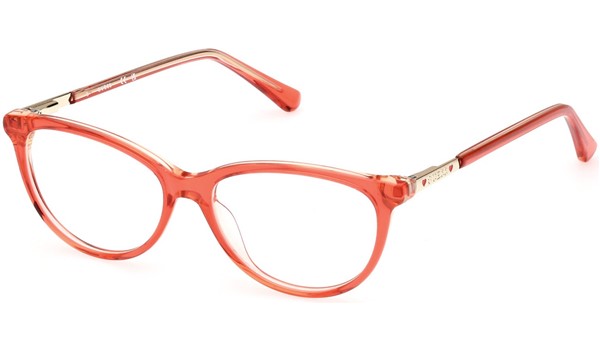 Product Description for Guess Kids Eyeglasses
Introducing Guess Brand Prescription Eyeglasses for Girls and Boys, where style and functionality combine to create the perfect eyewear accessory for young fashion-forward individuals. Designed with meticulous attention to detail, these eyeglasses seamlessly blend fashion trends with classic European influence and American flare.
The collection features a diverse range of frame styles, colors, and designs, catering to various tastes and preferences. From sleek and sophisticated to bold and vibrant, Guess Brand Prescription Eyeglasses for kids offer options that allow young individuals to express their unique personalities and individuality.
How to measure a kid's pupilary distance?
Description
What to know about Guess Eyeglasses
Whether it's a classic rectangular shape frame, a chic cat eye shape or an oversized style, there is a pair of Guess eyeglasses to suit every face shape or style. The frames are thoughtfully designed to be lightweight, ensuring your child is comfortable. Guess girls and boys eyeglasses are embellished with subtle details, adding a touch of sophistication to the frames.
Investing in a pair of Guess Prescription kids' glasses means investing in quality, style, and confidence. With their fashion forward design, superior craftmanship, and attention to detail, these eyeglasses empower young girls to embrace their individuality.
What are the special features of these kids' prescription eyeglasses?
Guess kids GU9233-068 Red is a full rim plastic cat-eye shape frame. These plastic frames are hypoallergenic and light weight, an important feature if your child has sensitive skin. Also, they come with a saddle nose bridge that contours to fit those undeveloped nose bridges better
This frame is great for kids that want some fun but at the same time want a pair of fashionable eyeglasses. Guess kids' eyewear has all the latest fashion colors available.
Guess uses top quality materials for their kid's and tweens eyewear line. Most of their styles are made of plastic injected material. They are resistant to everyday use and maintain their shape. They use top quality materials for the eyeglasses, so they are light and soft to the touch.
What age do you recommend these eyeglasses for?
Guess kids GU9233 is available in eye size 47 we recommend them for kids and 6-10 years old.
What is included with these eyeglasses?
Guess kid's and tweens eyeglasses include a Guess eyeglass case with a cleaning microfiber cloth.
Optiwow is an exclusive authorized dealer for the Guess Brand Kids Eyeglasses. We only carry the most current Guess frames; we do not sell any discontinued products.
What should you consider when completing your child's frame selection?
Premium Quality Digital Lenses Digital lenses are an advanced option of lenses that are custom made for your child's prescription and enhance your child's visual experience. They will improve the visual clarity and reduce aberrations and enhance the aesthetic appearance.
While digital prescription lenses may have a higher upfront cost compared to stock lenses, they offer significant benefits of visual quality. Clear and accurate vision is crucial for this stage of development, their visual system is still developing.
Polycarbonate Lenses for kids; they are impact resistant which means that lenses won't shatter upon impact. They are also 30% thinner and lighter than plastic. Also, all polycarbonate lenses have UV Protection that blocks the sun's harmful UV rays just the same concept of putting sunscreen for protection when going to any outdoor activity.
We highly recommend Anti-Reflective (AR) coating it eliminates the glare so making those pictures/selfies look great and enhances the facial expression. Also helps reduces eye straining and given the amount of time that kids spent looking at electronic devices this will help with the eye fatigue. Because of the super hydrophobic properties in the material, it also makes it easier to clean, and with children this is a plus.
* Transition Lenses® are also an awesome feature to add because it's like having two pairs of glasses in one. They seamlessly change color when your children are outdoors helping them feel more comfortable in the bright sun and become crystal clear when back indoors and at nighttime.
Optiwow's Quick Guide to frequently asked questions
How to Return, Exchange, Warranties and Cancellation Store Policy
https://www.optiwow.com/store-policy
How to buy glasses in Optiwow?
https://www.optiwow.com/quick-start-guide
How to measure your child's Pupillary Distance?
https://www.optiwow.com/measure-pd
Other FAQ's