How to set up for a great school year if your kid wears glasses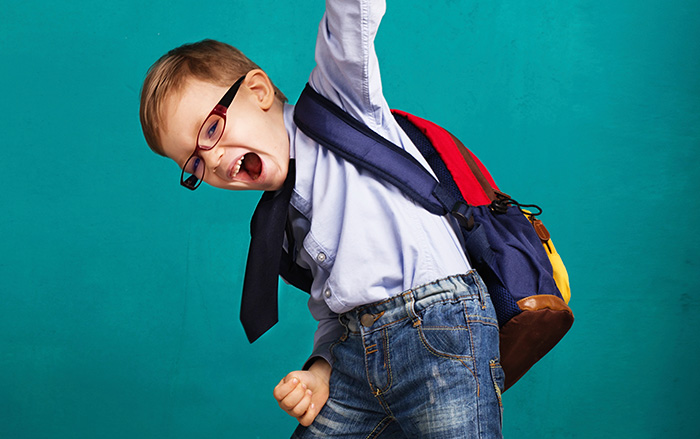 School is almost in session again and things can get pretty hectic. There will be lunches to pack and wake-up alarms to set, maybe a soccer team try-out to go to. But your child's eyesight has a strong correlation with their school performance and overall well-being, so it's important to make it a priority.
As a parent, you don't just want your child to be prepared on the first day, you want them to be confident throughout the year. That's why we're sharing six game-changing tips for a good school year when your child wears glasses.
Make time for a not-so-pop quiz.
Schedule an eye exam for your kiddos towards the beginning of every school year. Making an eye check-up part of your back-to-school routine can prevent any headaches or blurry vision mishaps when they head back to the classroom. We recommend doing this even if your kids don'thave a prescription. Beyond updating their lenses, eye exams are also important to ensure a child's eyes are healthy and developing properly. Remember that vision and eye conditions can make participating in activities a challenge if left uncorrected. So having your kids' eye exam before they kick off the school year can be a good way to make sure you address any changes in prescription or eye health on time. That way they'll be able to follow along in class and enjoy all the other fun stuff that they do.
Hand over the reins to get your kids excited about their new glasses.
Add kid-approved spectacles to your list of back-to-school supplies (and fight the urge to pick out the frames on your own). After all, you want your kid to wear the glasses, so letting them have a say in choosing a pair of new frames, as well as offering fun, cool options is essential. There are many adult optical stores in which children's glasses are just an afterthought. But at Optiwow.com we carry specialty brands that put time and effort into designing kids' glasses to make sure that they are stylish, well-crafted, and provide the protection and flexibility children require. Some of the leading designer brands we carry at Optiwow are Kids By Safilo, Miraflex, Nike Vision, Converse, Nano Vista, iGreen, Dilli Dalli, Ray-Ban Junior, and Polaroid. Take a look. We offer plenty of bright, awesome, and high-quality options in kids' eyewear,so you can enjoy exploring the options together. Many of our young customers are usuallyexcited about wearing their glasses, and this can make things a whole lot easier on parents.
Talk with their teachers.
When you get a chance to meet your children's teachers, don't hesitate to let them know that your child wears prescription glasses. If they know just what your kid needs, they might encourage them to sit closer to the front or give them a gentle reminder to put their glasses on when it's time to look at something on the blackboard. You can also ask them to let you know if your child is often hesitant or reluctant to wear their glasses. That way you're in the loop and can work on finding a solution together.
Consider getting a back-up pair of specs.
When it comes to tips for anything with children, having a back-up plan always helps. Getting an extra pair of just-in-case glasses could be your saving grace. If your child's pair gets misplaced you don't want to be stuck in a frantic rush to find a replacement pair. You could end up grabbing the first glasses you can find out of desperation, which could do more harm than good. And reverting to an old pair that's not the right prescription can lead to headaches, squinting, or long-term damage. Your little one's spare glasses could be a cheaper version of their everyday pair, but keep in mind that very cheap Polycarbonate Lenses can provide blurry image quality, and this affects their visual development as well. So pick out a nice reasonable back-up pair with your child and have them on-hand, this will potentially save you tons of stress and time.
Schedule some off-screen time.
There are many reasons to set limits on screen time, like encouraging outdoor play and physical activity, fostering healthy sleep habits, and promoting in-person social relationships. Eye health is also high up there. While there's a lot of talk about adults and digital eye-strain, we can forget that kids get a lot of blue light too. Spending all day alternating between staring at computers, tablets, televisions, and phone screens can lead to tired, irritated eyes, headaches, blurry vision, and more. In fact, studies have found that children who spend more time indoors are more likely to develop nearsightedness (myopia) because safe exposure to natural daylight is critical to developing eyes. You can encourage kids to get away from their screens by planning some outdoor activities, and setting a timer on their devices every 20 minutes telling them to take a break. The 20-20-20 rule states that every 20 minutes you should look at an object 20 feet away for 20 seconds. We all know children can lose track of time when they become absorbed, and while we want them to focus on their homework, the eyes get really tired with prolonged close-focus attention, especially when the lighting around the screen causes glare and extra eye strain. So go ahead, look around, and maybe even take a walk.
Label your child's glasses.
Last but not least in our back-to-school tips for parents of kids with glasses is to put a label on your child's glasses case. Kids are prone to misplacing things. More so if they only wear their glasses for certain tasks and have to take them on and off a lot. So include your little one's name and your phone number in a case for the frames and adhere it to the inside.
Hopefully, these tips for a good school year when your child wears glasses will help your kiddo see clearly so they can excel in the classroom and all the things they love to do. If you need help finding the perfect eyewear, browse our product section and send us a message. We'll help you choose a pair from our selection of kids' glasses and sunglasses that will give your child the ideal blend of style, durability, and function.
Like and Share Article
Previous Post
Kids Glasses: Finding the best quality and style that fits right
Next Post
Back to School – 5 Tips for buying glasses for your children