Back to School – 5 Tips for buying glasses for your children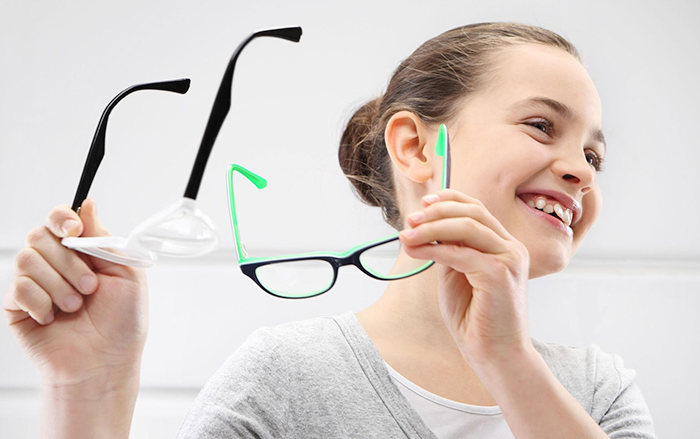 We get it, buying eyeglasses for your child can be overwhelming. You may already have an idea of what you want, but buying something so personal for your little one is no simple task. After all, your kid's eyesight is at stake.
By now you could know the feeling of walking into an optical store and being confused, not knowing whether you're making the right decision. The sales person might not be an expert and only wants to close the sale. So how do you figure out what's the best option? Well, there are a couple of things to consider, if you want to buy a pair of glasses that your kid wants to wear and will last longer than a trip to the playground.
Don't worry, we're here to help. Buying glasses online is now easier than ever, so you don't have to limit yourself toyour local shop's inventory or the sub-par assistance you could get from the salesperson on duty. Optiwow.com is a trusted source for your children's glasses, it's the #1 online store designed exclusively for kids' eyewear, created and approved by a Pediatric Ophthalmologist.
At Optiwow.com you will not only find top quality lenses and frames, but you can also count on highly trained staff, as well as free calls and chat support to answer all your questions – whether you're wondering about your kid's prescription or about finding fashionable, flexible, resistant, and durable glasses.
Here are some things to take into consideration before you buy glasses for your children.
1. Fashion Forward
Whether your child has to wear their glasses all day long or only occasionally, all kids need to feel confident and secure wearing them. Crucial to avoid frames that make them feel uncomfortable, or look "uncool." Since their new specs are going to be on their face, it's important to select a frame style that will look good and that reflects their personality.Keep in mind that the real objective is to get your child to wear the glasses. At Optiwow we have several lines that strike a perfect balance between durable and cool,probably the two most important keywords when deciding what style to buy. For kids ages 1 through 8, we recommend you consider the Nano Vista Eye Glasses.
2. Choosing the Right Material
Most children's frames are made of plastic, metal, flexible metal, or rubber, and many have styles that intentionally mimic adult styles. Given the variety of options, You could consider having multiple frames to match their different activities. Sport Goggles are ideal for when your kids are active and running around, for example. For younger kids, we recommend you try flexible and durable frames, but for older kids you could certainly try plastic or metal frames. Most glasses in our store are made of light and hypoallergenic materials.
3. Impact Resistance
If you have small children you know you want flexible, durable, and resistant eyeglasses. Optiwow.com has the largest selection of colors and options to choose from. We recommend indestructible glasses that have no metal parts, are super comfortable, and so versatile that they are perfect for every occasion. Nano frames, for example, have exchangeable parts, come in fashionable colors, and are both thinner and lighter than regular frames. They may not be the cheapest option, but their life expectancy is much longer, so they will end up being better than having to buy several frames andlenses every time your kid breaks them.
4. Prescription
Once you have the perfect frame, you should consider only top quality lenses. Optiwow offers lenses manufactured in the USA. All lenses are free-form or digital, not stock lenses. You probably want nothing but the best for your little one, and should know that buying cheap and low-quality lenses can put your child's eyesight at risk. Free–form lenses require an advanced manufacturing process that reduces higher–order aberrations, resulting in significantly improved vision, and are custom made for each individual prescription. Contact us if you have questions about yourprescription, we offer all types of specialty lenses in case you kid has a high power prescription.
5. Warranties
Peace of mind has no price. At Optiwow we want to offer you the tranquility of knowing that you are in good hands when you purchase with us. We offer First Time Purchase Savings on top of Exclusive Optiwow Extended Warranty on lenses, as well as One-Year Warranty on our frames.
Now that you know what to look out for, take a look at our products section and don't hesitate to shoot us a message – we're here to help.
Like and Share Article
Previous Post
Kids Glasses: Finding the best quality and style that fits right
Next Post
Back to School – 5 Tips for buying glasses for your children