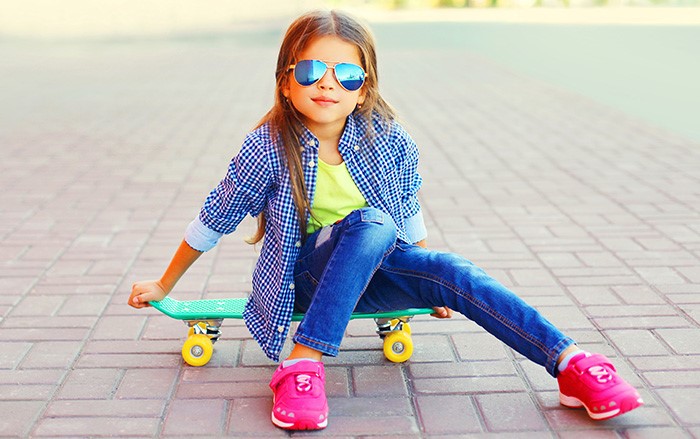 Jun 26, 2019
Why your kids need to wear sunglasses (year-round) and how to find the best ones
---
You probably don't let your kid skip the sunscreen when you go to the beach or plan a prolonged outdoor activity. Thanks to widespread awareness about the dangers of ultraviolet (UV) rays, most parents are vigilant about protecting kids' skin with sunblock, hats, and clothing. Did you know, however, that it's just as important to protect their eyes from the sun's harmful rays? A good pair of sunglasses is often left out of the protection kit, and that can spell future vision problems. A little bit of sunlight is good for all of us, but if children are playing outside for extended periods of time, that's intense, and their eyes need to be protected.
Research shows that we absorb 80 percent of our lifetime exposure to ultraviolet (UV) light by the age of 18. This happens because children's eyes are more vulnerable to damage from the sun than adults'. Our cornea, lens, and fluids are clearer when we're younger, allowing more light to reach the retina. As we age, our eyes' lenses harden, so by the age of 20 the risks of UV rays to the eyes are usually reduced. But until then, our kids are especially vulnerable.
Why does it matter? Because the effects of UV damage are cumulative and many. In fact, many of the sun-related eye problems faced by adults can be prevented simply by wearing sunglasses from an early age. Even as early as two to three years old, or as soon as you can get your kiddos to keep them on. Unprotected exposure to UV rays could eventually lead to cataracts or cause inflammation of the eyes' outside membrane (think pinkeye).
Bottom line: Kids' eyes need protection from UV rays. And while a wide-brimmed hat is a good idea, it won't replace sunglasses. The sun will reflect off the sidewalk, sand, water or snow from below and get into their eyes. So now that we've established why sunnies are a must, here are some factors to consider to pick the perfect pair of shades: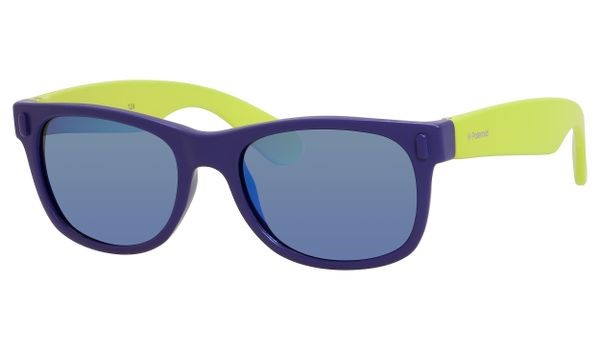 Polaroid Kids P 0115/S Sunglasses Polarized Blue/Lime-0UDF-JY
Percentage of UV blocked: When choosing a pair of sunnies do remember that the shade of the lenses doesn't necessarily determine their ability to filter UV light. Avoid glasses that don't specify the percentage of UV blocked, even if they have a sticker on them claiming to "Block UV rays". If you make sure the pair you choose has standard UV400 lenses or 100% UV protection, you know your child will be getting the maximum benefit out of their sunnies.
Optometry grade lenses: With a lot of cheap sunglasses, the lenses aren't optometry grade. They might be too thin or distorted, and your child might not want to wear them because this affects their vision.
Polycarbonate lenses: Polycarbonate is impact-resistant and lighter than standard lenses, and polycarbonate itself is UV protective. Some low-quality glasses may contain materials like lead in the frame or hinges, which will make them fragile and you might go through several pairs.
A large, flexible frame: Look for temples that are a little wider to prevent the peripheral sun from getting in. Not only does it block the most UV, but it keeps out sand and debris. The frame should be close-fitting and flexible. You can look for spring hinges that extend beyond 90 degrees, so they're less likely to break. Kids tend to be rough with their glasses.
Loss prevention: Buying kids sunnies with an elastic band around the back can help keep sunglasses on our littlest kids for a snug fit. These allow children to play hands-free and can also save them from getting lost.
Sunglasses aren't just a style statement, they're important protection. We have tons of great sunglasses for kids that are affordable, fit these characteristics and work really well at Optiwow.com, including ones that can hold a prescription. Take a look at our Sunwear section and if you have any questions just say the word, we're here to help.
---